News : Hotel Levesque is a proud partner of 2019's Défi Everest!
24 April 2019 | par Hôtel Levesque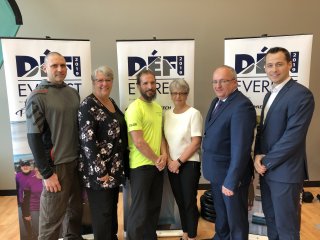 Photo: At the right, our General Manager, Guillaume Lavoie, proud to be presenting the Macadam Ado challenge of the Défi Everest 2019.
Proud partner of Défi Everest, for the Macadam Ado challenge, Hotel Levesque will cheer on for the teenagers (ages 12-17) taking part in the event in the night of the September 21 to September 22. A special menu will be created for the event by our Chef Létécia Bossé, to ensure that the participants have all the energy they need to achieve the challenge.
More specifically, this Everest Challenge promotes the improvement and the maintain of a good physical condition, by holding sports events.
The general manager of the Hotel Levesque, Mr Guillaume Lavoie, sees a lot of resemblances between the activity and his institution. Indeed, as his hotel, this challenge introduces the principles of teamwork to reach the objectives. In a company that builds its reputation by offering a higher quality consumer service, the teamwork is essential.
More information on the Macadam Ado challenge here.