News : Le 171's Ice Bar is ready to welcome you!
21 March 2019 | par Hôtel Levesque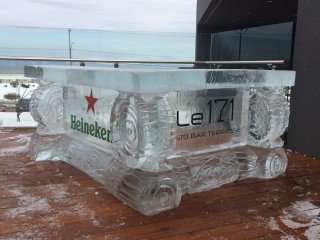 Come and taste our traditional hot drinks: Gluterwine and alcoholic coffees!
New this year: hot cider. For the beers lovers, come enjoy a fine Heineken around our splendid outdoor fireplace!
Here is a reminder of our 3rd edition:
Thursday March 21st: Music night with Mathieu Dubé (local singer)
Friday March 22nd: Scotch & Blues night with singer Martin Goyette, candidate for The Voice Quebec
Saturday March 23rd: DJ Night
Sunday March 24th: At 10:30 AM, our Sunday brunch starts with a sugar shack theme, with maple taffy on snow for all our restaurant' clients.